The world's first in-chat virtual assistant.
Today we are excited to announce the introduction of Epik Assistant a fully integrated digital assistant made to help enhance and improve your chatting experience.
Using EpikChat Assistant is as simple as asking a question.

Just ask for the time, how many people are broadcasting, tell a joke, and more—EpikChat will respond instantly.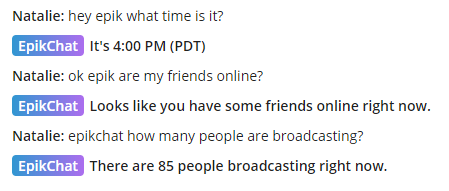 Advancements in AI and machine learning allow EpikChat Assistant to answer complex questions, provide advice, and more.
EpikChat Assistant wake words
Fully integrate with EpikChat enabled devices
The EpikChat text-control platform can perform many functions around your home. By connecting EpikChat enabled smart devices to the chat, you can configure EpikChat to control your lighting, home thermostat, music and more!
"
EpikChat Assistant makes life easier by being able to provide information and perform tasks at the click of a mouse.
Kevin Bradley
EpikChat Product Development
"
EpikChat Assistant is currently only available to members and will only respond in The Lobby chat room.